Huwei has updated the Matebook 14s this year. Almost all the parameters of the device remained at the level of their predecessor, but the key component of the hardware platform, the processor, has changed: instead of the 11th generation CPU Core, the 12th generation CPU Core has been used.
The Matebook 14s debuted with two CPUs to choose from: Core i7-12700H and i5-12500H. And now a version of the laptop with an Intel i9-12900H processor has been announced in China. Now this is the top option, and, of course, the most expensive: such a Matebook 14s is priced at $ 1,250.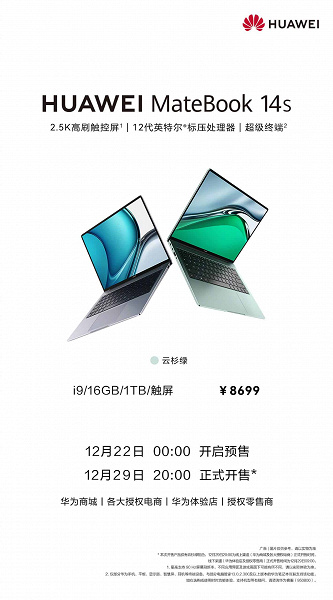 Recall that in the configuration of this model, an IPS screen with a diagonal of 14.2 inches, a frame rate of 90 Hz and a resolution of 2.5K, 16 GB of RAM, a 512 GB or 1 TB SSD, a 60 Wh battery (included is a charging unit with a capacity of 90 W), a pair of USB-C ports with Thunderbolt 4 interface, one each HDMI and USB-A. The laptop is made in a metal case, the weight of the device is 1.43 kg.