The GM SGMW joint venture has officially announced that the previously announced Baojun Yep all-electric crossover, which is called the "Chinese Suzuki Jimny", will go on sale ahead of time. It was previously reported that it will be released at the end of June, but the manufacturer confirmed that it will be available from May 25 for a price of $14,400 in five colors.
In addition, new images were released: the manufacturer said that the car will receive a retro-style aluminum trunk. True, this trunk is designed for only 30 kg of cargo.
Recall that on the back of the fifth door of the car is a large LCD screen in the style of Apple Watch, which allows the owner to communicate with other drivers unilaterally. GM SGMW says it will help the younger generation express their individuality.
This is a compact 3-door 4-seater with dimensions of 3381 x 1685 x 1721 mm, a wheelbase of 2110 mm and a curb weight of 1006 kg. The car is 0.6 meters shorter than the Suzuki Jimmy, whose dimensions are 3985 x 1645 x 1720 mm with a wheelbase of 2250 mm.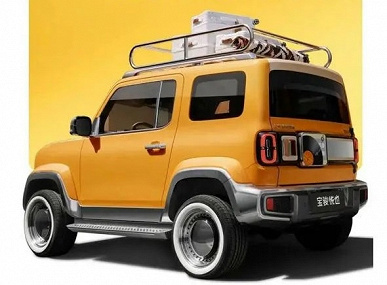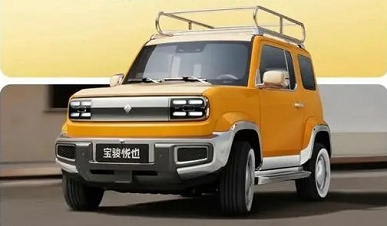 The electric car is equipped with a single electric motor located at the rear and can develop a maximum power output of 68 hp. and generate a maximum torque of 140 Nm. The maximum speed is 100 km/h. Baojun Yep is equipped with a Lithium Iron Phosphate (LFP) battery, which allows for a range of 303 kilometers on the CLTC cycle. A twin-engine, all-wheel-drive version is also in development and will be unveiled later this year.