The profile publication "Chinese Automobiles" recorded a price reduction for popular Chinese cars Chery, Exeed and Haval, and also shared convenient tables.
Haval finally announced prices for restyled crossovers and announced Jolion discounts of up to 220 thousand rubles for all-wheel drive versions. Chery used to have a direct discount on Tiggo 4 of 130 thousand rubles, except for the initial version, and now it is 200,000 rubles. The discount for Tiggo 7 Pro in Elite and Prestige trim levels and for Tiggo 8 has increased by 100,000 rubles. And the prices of Tiggo 8 Pro have disappeared from the site. Presumably, the company is preparing for the appearance of an all-wheel drive version of the Pro Max.
The table shows that the decline in prices for Chinese cars Chery and Exeed ranged from 3 to 5%.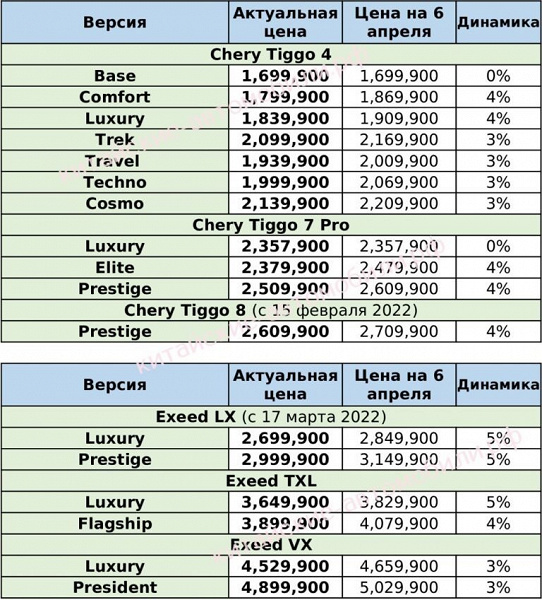 For the Exeed LX compact crossover, the discount has doubled – from 150,000 to 300,000 rubles. Discounts on Exeed TXL have grown from 170,000 to 350,000 rubles. The flagship VX is offered at a discount of 350,000 rubles.
We hope the trend will continue and prices will continue to decline.