Audi's branded showroom in China, called the Audi 4S store, announced an interesting promotion that caused heated discussion: the company offers to buy the Audi A8L flagship sedan and get the Q2L compact crossover as a bonus.
In China, for the basic version of the Audi A8L with a 2.0T engine, they ask for $ 115,500, the maximum cost of the flagship sedan is $ 272,000. At the same time, the cost of the Audi Q2L ranges from $31,800 to $37,500. At the same time, discounts from $14,000 to $28,000 apply to the sedan, depending on the version. True, it is unclear whether discounts apply if you want to receive a purchase bonus in the form of a crossover.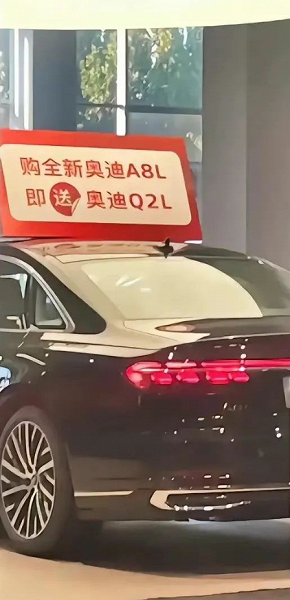 Obviously, the campaign was launched to attract additional attention to the Audi A8, since among the flagships of the big German three it is the most unpopular model in China: in the period from January to August, 7090 Audi A8L were sold in China against 17,387 Mercedes-Benz S-class and 9703 BMW 7 Series. As for the Q2L, Audi has already announced that this model will leave the production range in 2023 due to weak sales and will not receive a successor.