China is working on a next-generation reusable launch vehicle. With its help, it will be possible to deliver astronauts or cargo to the Chinese space station Tiangong, which is currently being built in orbit. And a larger version of the new rocket will allow crews to be sent to the moon and deep space.
The China Aerospace Science and Technology Corporation (CASC) said the next-generation rocket will work alongside a new spacecraft larger than the Shenzhou ships currently used by the China National Space Administration for manned flights.
The first stage of the "next-generation manned launch vehicle" after launch will return to Earth using engines and lattice stabilizers, similar to the first stages of SpaceX's Falcon 9 rockets. In addition, "tethered landing devices" will be used. That is, instead of landing supports, the descent stage of the rocket will have hooks with which it will cling to the cable.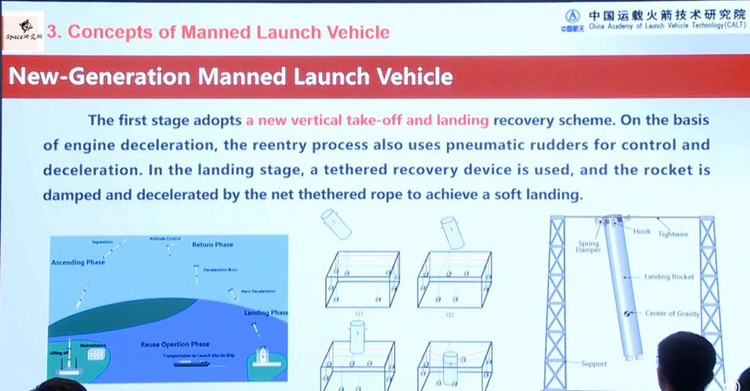 Nothing is known about the timing of the creation of a new rocket. According to a recently released document by the Chinese government, which outlines the key tasks for the space industry for the current five-year period (2021-2025), the first launch of a new manned launch vehicle will take place during this period.
Unlike China's current Long March 2F rocket, which uses toxic hypergolic fuel, the new rocket will use RP-1 rocket fuel, which is a highly refined form of kerosene. The rocket will be presented in two versions: a two-stage version for sending astronauts and cargo to the Chinese space station and a three-stage version with two side boosters for deep space flights.
The two-stage version will be capable of delivering up to 18 tons of payload into space, the older version – up to 27 tons.