New technical details about Chery's 8-speed automatic transmission have been leaked to the Web. The date of the debut of a new exclusive transmission on production cars has also become known.
The production of an 8-speed "automatic" is established at the Anhui Fuzhen Auto Power System plant. It is located in Chery's hometown – Wuhu. According to the documents, Chery has no direct connection with the manufacturer, but it has full intellectual property for these "machines".
The flagship Chery Tiggo 9 (T26) and Exeed AtlantiX (Yaoguang) should be the first to receive an 8-speed automatic transmission. And then they promise to install it on a large number of Chery, Exeed, Jetour and Omoda models. Up to 300,000 such torque converters will roll off the assembly line every year.
The new transmission received the factory designation FA840. And in this index some technical parameters are hidden. So, the number "8" indicates the number of gears, and the number "40" indicates the maximum torque that the torque converter can "digest" (400 Nm). This automatic transmission parameter slightly exceeds the input torque of the Getrag 7-speed "robot", which is often found on Chery cars.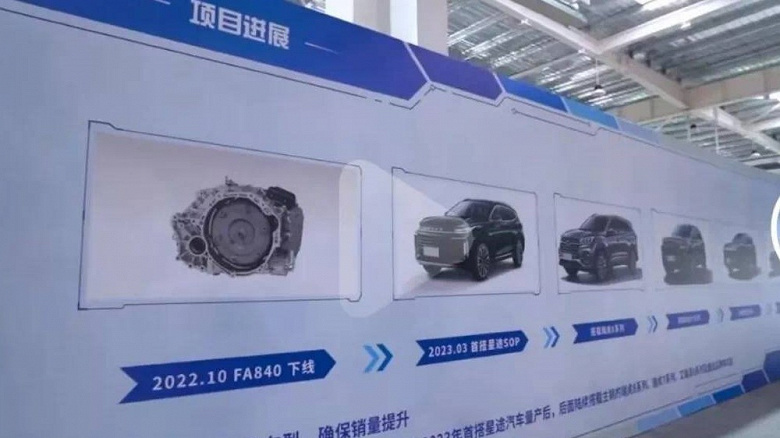 According to new information, the first Chery cars with this "automatic" on board will go on sale in March 2023. They will be the already mentioned Tiggo 9 and Exeed AtlantiX. Interestingly, the picture from Chery's closed presentation indicates that the Exeed TXL crossover will also receive such a box in March. And then it will be installed on the Tiggo 8 family, Tiggo 7 Pro, as well as Jetour Dasheng. At the same time, Tiggo 9 and AtlantiX are not present in the picture. It is assumed that a 2-liter gasoline engine with a capacity of 254 hp will be paired with an automatic transmission. and torque of 390 Nm.