New Delhi.
iGRiD Portable Cars Air Pump Review: Few accessories have become essential for car drivers in India and the most important among them is the portable air pump. It is the summer season, in such a situation, people have to puncture the tire while walking on the road and sometimes there is a need to get air in the tire. If you have a portable air pump, then you can use it in times of trouble and you will not have to wander much for this. Keeping these needs of the people in mind, a company named iGrid (iGRiD) has introduced Portable Air Pump, which iGRiD Portable Air Pump Is. We are going to tell you what the iGrid portable air pump looks like, how it can be used and how beneficial it is for you. In a detailed review, today we are going to give you all the information including price and features from iGrill Portable Air Pump.
work thing…
We used the portable air pump of the company iGrid for a long time, which has the model number IGTI06. This portable air pump has helped a lot in fast inflation in the car. You can use it as an air compressor, tire inflator or other inflatables. Overall, it should be said that you can fill air in the car as well as balloon, cycle and other things with the help of this air pump of iGrid. Now you must be wondering how is the performance of this portable air pump from iGrill and what can be the benefits for the car owners? Before telling all these things, we tell you about its look and design as well as features.
Look, Design and Features
The iGrid Portable Air Pump measures 8 inches in length and 6.18 inches in height. Its thickness is 3.5 inches. Its weight is 950 grams. The look and design of this tire inflator is good. The special thing is that it has LED lights, so that you can also use it as a flashlight in the dark. This portable air pump from iGrid has a digital display, which is equipped with auto shut off feature. In its digital display, you can see the tire pressure, how much air is needed in your car or other things.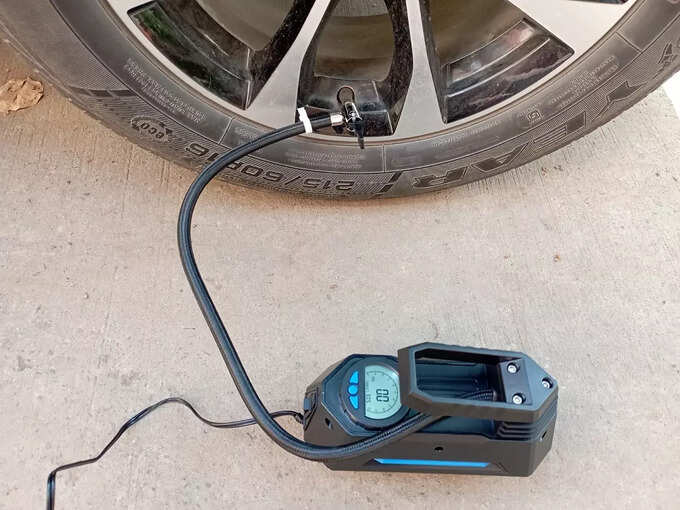 how to use
iGRiD Portable Air Pump has a 3 meter cable and 0.6 meter power cord. Now how to use it, let us tell you that you turn on the engine of most car and connect its power cord to the mounted cigarette lighter point of your car. It will then turn on and then attach its air nozzle to the valve stem. After this you set the required pressure unit in the M button visible in the middle of the display. To the left-right of the M button, there is a minus-plus button to set the type pressure. After that turn on the inflate. The inflator will automatically turn off after filling the tire with the required amount of air.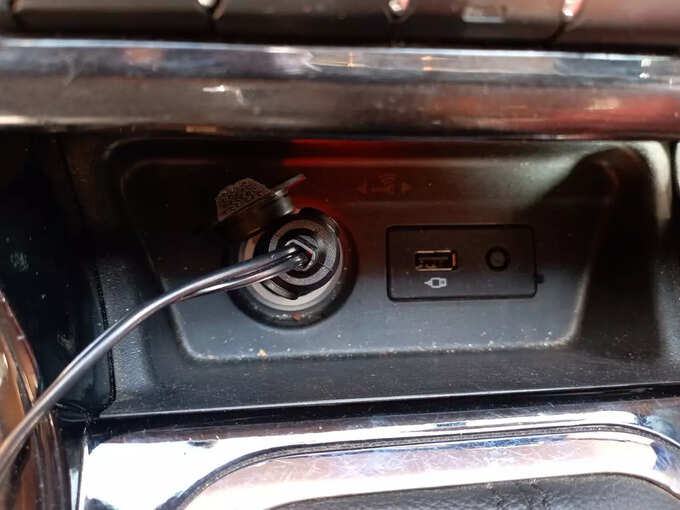 performance and price
Let us tell you that this air inflator from iGrid can inflate 195/55/R15 type car tires and can inflate it from 0-35psi in just 5 minutes. With this device you can generate pressure up to 150 PSI. This portable air pump from iGrid requires 12V DC voltage to turn on. It generates 100 watts of power. The IGTI06 model of the iGRiD Portable Air Pump is priced at Rs 1,999 on the iGrid website.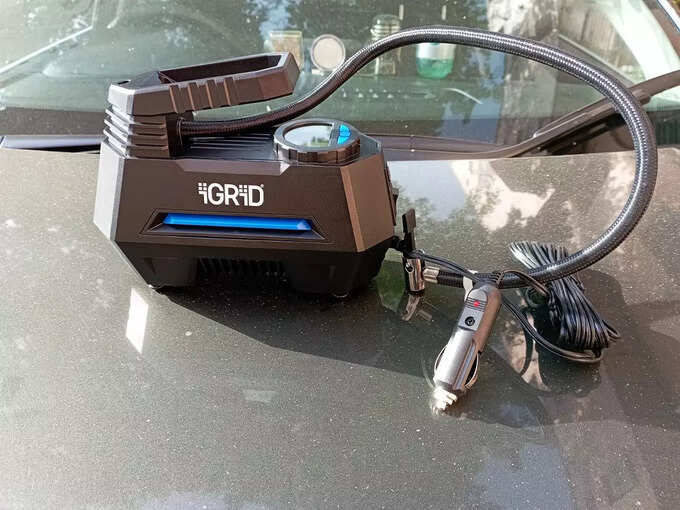 how profitable to buy
If you are troubled by the apprehension that your car may not release air from your car or what can be done if the tire gets punctured at an unknown place, then we recommend that this portable air pump of iGrid is necessary and necessary for you. is beneficial. You put it in the boot of the car and it doesn't take up much space. This inflator is very easy to use. We took the help of this iGrid inflator to inflate 2-3 cars and the result was very nice and comfortable. No hassle and no trouble. In such a situation, you can take this air inflator from iGrid as a good option for your car, which will be of great use in times of trouble.