The new crossover Geely Atlas L (in China it is called Geely Boyue L) will receive different power plants and versions. In addition to traditional and plug-in hybrids, it will be available exclusively with internal combustion engines of different capacities, as stated in the database of the Ministry of Industry and Informatization of the PRC.
Geely Atlas L uses the new CMA platform, it has become larger. Dimensions are 4670 x 1900 x 1705 mm with a wheelbase of 2777 mm. The exterior and interior of the crossover received a design in the style of last year's Vision Starburst concept.
The traditional hybrid that cannot be charged is represented by a 1.5-liter DHE15-ESZ engine with 150 hp, an electric motor, a three-speed hybrid transmission and a traction battery. The manufacturer of the latter is Geely's subsidiary under the name Viridi E-Mobility Technology or Sunwoda. The curb weight of such a Geely Atlas L was 1740 kg, and its maximum speed was limited to 175 km/h. This version received the prefix Hi-F in China.
There will also be a model with a Hi-X nameplate indicating a plug-in hybrid that can be charged from a wall outlet. There are no exact technical details about this version yet.
In addition, versions with conventional internal combustion engines are listed. The "younger" version of such a crossover will receive a 1.5-liter BHE15-EFZ engine with a capacity of 181 hp. and front wheel drive. The mass will be 1571 kg, and the maximum speed is fixed at around 195 km / h.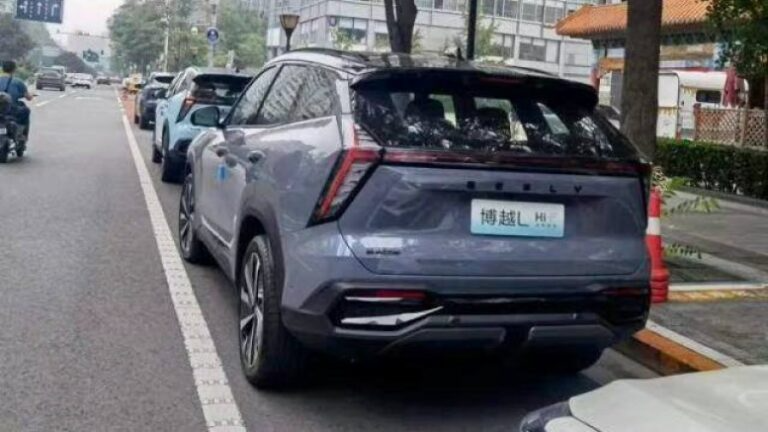 The "older" version of the Geely Atlas L will receive a 2-liter JLH-4G20TDJ engine with a capacity of 218 hp. Weight can be 1610 kg and 1645 kg, depending on the type of drive (front and full). The maximum speed of this version reaches 215 km / h. In both cases, a 7-speed "robot" will be installed.