In Chinese civil aviation, a big celebration – the COMAC C919 aircraft has finally received a type certificate from the local regulator – the Civil Aviation Administration of China (CAAC). Receipt of the certificate means that the C919 is ready for entry into service and meets all airworthiness standards in accordance with the Civil Aviation Regulations of China. The first C919 is expected to be delivered to China Eastern Air before the end of the year.
The COMAC C919 is China's hope to break the Airbus and Boeing duopoly with their narrow-bodied, medium-haul A320s and 737s, respectively. The Chinese aircraft comes at a very favorable time for commercial flights: after the pandemic, the industry is on the rise, in many countries there is an acute shortage of commercial aircraft, especially in the most popular medium-haul class. Obviously, at first, demand for the C919 will be provided mainly by local companies, but this also means that competitors Airbus and Boeing will lose market share in China.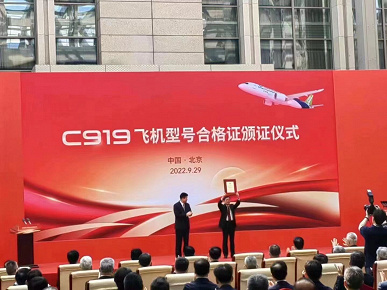 Show interest in C919 and from abroad. For example, earlier the European low-cost carrier Ryanair decided to participate in the development of the C919 by signing a memorandum of understanding for the 200-seat version. The head of Ryanair, Michael O'Leary (Michael O'Leary) has repeatedly expressed support for the project, but now this project may not be so attractive for one very good reason – the cost has increased.
The problem is that from the originally planned retail price of $50 million, the cost of the C919 has skyrocketed to a list price of 653 million yuan. A month ago, it was about $100 million, but the recent depreciation of the yuan has made the plane more affordable – the price at the moment is about $91 million. Still, this is not much less than what Airbus and Boeing are asking for their alternatives (about $106 million for the Boeing 737-800 and about $110.5 million for the Airbus A320neo).
Along with the increased price, operational problems must also be taken into account. The availability of spare parts, technical support and qualified pilots to fly the aircraft is not a problem for China, but a headache for foreign operators. So COMAC will have to try to, on the one hand, try to reduce the cost, and on the other hand, to convince foreign companies that switching to the C919 instead of the Boeing 737 or Airbus A320 makes sense.