NASA, initial development contract with three companies
$400 million in support over 3 years… Selection of final candidates for 2025
Blue Origin's first phase 'Orbital Reef' to be built in the late 2020s. provided with screws
Blue Origin, Northrop Grumman, and Nanorax were selected as candidates for the development of a private space station that will assume the post-retirement of the International Space Station (ISS) in the late 2020s. Jeff Bezos' Blue Origin, who was eliminated from the lunar lander bidding competition last spring, has secured the power to spur the development of space technology again with this selection. The National Aeronautics and Space Administration (NASA) announced on the 2nd that it had decided to sign an initial development contract worth a total of $415.6 million with these three companies as a result of screening according to the criteria for the CLD (Commercial LEO Destinations) project. The contract amount is the largest for Nanorax with $160 million, followed by Blue Origin with $130 million and Northrop Grumman with $125.6 million. NASA said in August that it had received proposals from 12 companies ranging from startups to aerospace giants. Earlier, NASA selected four space station construction candidates and decided to provide an initial development fund of $400 million, and presented guidelines last spring. NASA plans to sign a formal space station development contract with at least two of the three companies by 2025.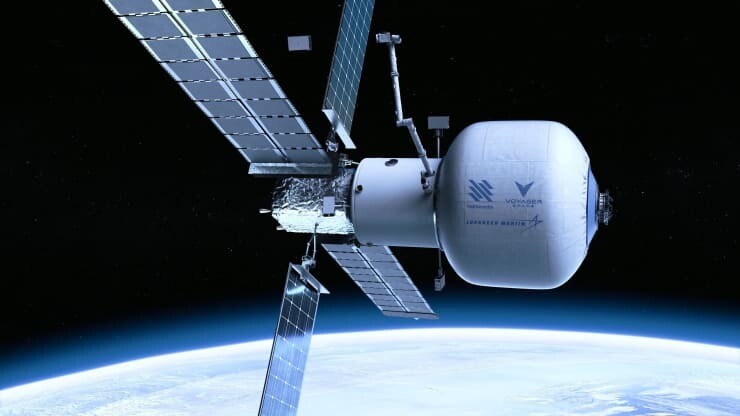 An image of the 'Star Lab' that Nanorax will build in partnership with Lockheed Martin and others. provided with screws
Nanorax to be built for research and experimentation
Nanorax, a space service company, plans to join hands with Lockheed Martin to start operating a 'Starlab' consisting of a single module three-eighth the size of the International Space Station in 2027. This space station is for research and experimentation. The idea is to have a biology laboratory, a plant growth laboratory, a physics and materials laboratory, and an open laboratory. Nanorax will lead the overall business, Voyager Space, the major shareholder of Nanorax, will invest, and Lockheed Martin will be responsible for manufacturing inflatable modules, robotic arms and experimental systems. The space station can accommodate up to four people. Nanorax is a company that has supplied more than 1,300 equipment to the space station over the past 10 years. At the end of last year, the first civilian attached module 'Bishop Airlock' was installed on the International Space Station.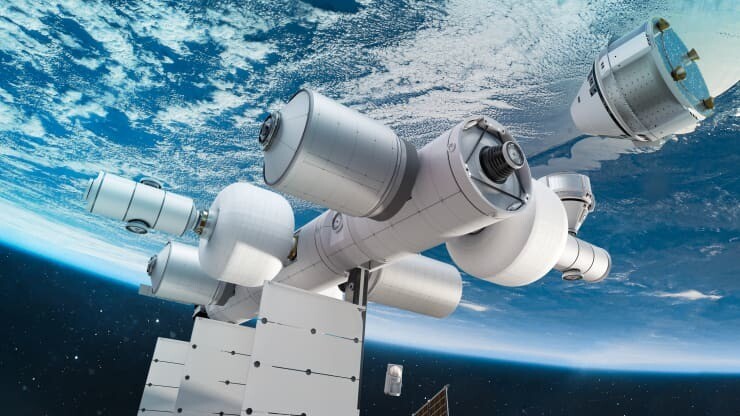 An image of the 'orbital leaf' in the 2030s. Provided by Blue Origin
Blue Origin is for multi-purpose research, industry, and tourism.
Blue Origin plans to work with five companies to build a space station 'Orbital Reef' that can accommodate 10 people by the end of the 2020s. Blue Origin's space station is a 'multipurpose facility' that can be used for scientific research, industry, and tourism. Brent Sherwood, Blue Origin's senior vice president, said in a statement that "Nasa is pleased to support the development of Orbitalif. It will be a space complex business park that provides many services." Blue Origin has partnered with Lockheed Martin's competitor, Boeing. Boeing will provide the science module and will be responsible for the operation and maintenance of the space station. Boeing has built the Destiny laboratory module for the International Space Station. In addition, once the manned spacecraft Starliner, currently under development, is completed, it plans to use it to help transport people and cargo. Another joint venture partner, Sierra Space, has already demonstrated the inflatable space hotel module prototype LIFE and is developing the Space Shuttle Dream Chaser. Blue Origin, the main operator, is responsible for the production and launch of core modules for the space station. Genesis Engineering, a member of the consortium, said it plans to develop a single-person spaceship reminiscent of the movie '2001: A Space Odyssey'.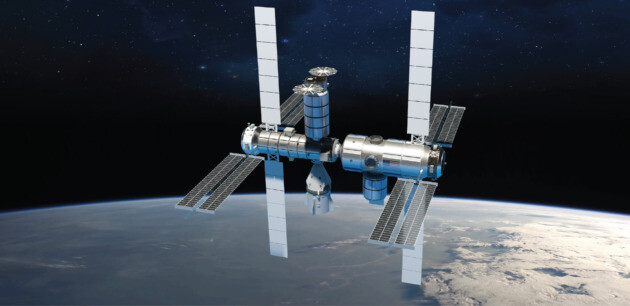 Northrop Grumman's image of the space station. provided with screws
Dynetics joins Northrop Grumman Consortium
Northrop Grumman submitted a plan to build a space station capable of accommodating four astronauts in the first phase and eight astronauts in the second phase based on experience in developing the Cygnus cargo spaceship. Dynetics, who participated in the lunar lander competition and was eliminated, will participate together. Other participating companies said they will make an announcement at a later date. Axiom Space, which signed a contract with NASA last year to build a new ISS module for $140 million, did not participate in the bidding for this project. In a recently released audit report, NASA expressed the opinion that it would be desirable to operate the International Space Station and the civilian space station together for two years from 2028, and then switch to a civilian space station after 2030. Senior Correspondent Kwak No-pil [email protected]
.