BlackBerry said today it will sell its patents, primarily related to mobile devices, messaging and wireless networks, for $600 million. The buyer is Catapult IP Innovations Inc, a company specially created to acquire BlackBerry patent assets.
The deal with Catapult IP Innovations Inc will not impact customers' use of its products and services, the company said.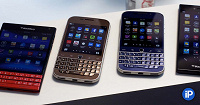 Upon completion of the transaction, BlackBerry will receive $450 million in cash and a $150 million promissory note.
BlackBerry was once well known for its smartphones with tiny QWERTY hardware keyboards and BBM instant messaging service. Now its main business is cybersecurity and software used by automakers.