The Gizmochina team compared the Xiaomi 12 Pro, OnePlus 10 Pro, Realme GT 2 Pro, iQOO 9 Pro, and Moto Edge X30 with each other to see which device opens and loads apps faster, as well as how well the devices manage their RAM. Recall that these smartphones are powered by Snapdragon 8 Gen 1.
We used the latest stable version of the system for testing. We have not made any changes to the phone settings and are running it with factory settings. For example, RAM expansion is enabled by default on every phone, so we didn't disable it. Following this logic, we also avoided high-performance modes because they are not enabled by default and most people do not use them for basic tasks. Also, for each test, we gave a score of 5 points. Thus, 1st place gets 5 points, 2nd place – 4, 3rd place – 3, 4th place – 2 points, 5th place – 1 point.

Gizmochina
The first test, which focuses on app open and load times, used Twitter, Amazon, Facebook, Instagram, Chrome, and more, as well as some games like Temple Run, Candy Crush, PUBG mobile, and Genshin Impact.
All smartphones were quick to open light apps, however the Realme GT 2 Pro unexpectedly took the top spot in load times thanks to its ability to quickly open Google Chrome, the camera app, and other heavy apps like Adobe Premiere rush and PUBG Mobile. OnePlus 10 Pro came in second, while iQOO 9 Pro and Moto Edge X30 tied for third place.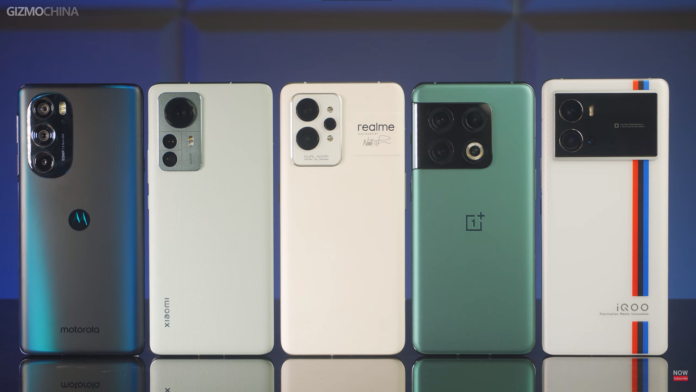 The most unexpected result was shown by Xiaomi 12 Pro, which was sometimes much faster than other phones, but lost to them when opening most applications. This may be due to the device not closing background processes.
For the RAM management test, 16 applications were run in a row. This time Xiaomi 12 Pro was in the lead, followed by Realme GT 2 Pro and OnePlus 10 Pro. The Moto Edge X30 was the most underperforming device in this regard due to its 8GB of RAM compared to other devices that got 12GB. However, the most disappointing device for managing RAM was the iQOO 9 Pro.
As a result, Realme GT 2 Pro offers the best overall performance with 74 points. The device is unmatched in the app opening test and comes in second in RAM management. The OnePlus 9 Pro also offers good performance and comes in second overall with 65 points. The Xiaomi 12 Pro is at its best when it comes to RAM management, but has issues with app opening times due to not closing background processes.