At the beginning of 2022, the new Intel LGA1700 platform looks impressive. The processor giant has released a lot of different solutions, many of which successfully compete with AMD products. That is why we in the test lab are not afraid to make rather loud statements in various articles and comparative reviews. Indeed, in the article " Best Mainstream Gaming Platform 2022: Core i5-12400F + DDR4 + B660 ", potentially the most popular gaming bundle of this year was considered. Because at this point in time, the use of DDR5 memory does not seriously increase system performance, but significantly affects its final cost. In addition, a few advanced users are engaged in overclocking the central processor.
As a result, at some point, the choice of a motherboard for a brand new PC becomes obvious. It doesn't make much sense (yet) to overpay for a Z690 chipset and DDR5 memory, and ASUS TUF GAMING B660M-PLUS WIFI D4 class boards look interesting even in assemblies with flagship Alder Lake processors. However, now you will see for yourself.
⇡#Specifications and equipment
At the time of this writing, 14 models of B660-boards from ASUS were sold in various Moscow stores. The most affordable was PRIME B660M-K D4, and the most expensive was ROG STRIX B660-F GAMING WIFI. The TUF GAMING B660M-PLUS WIFI D4 model generally has several analogues. There is a version of TUF GAMING B660M-PLUS D4, devoid of a wireless communication module. There is a TUF GAMING B660M-PLUS WIFI model – it supports DDR5 memory. Finally, there is our today's experimental TUF GAMING B660M-PLUS WIFI D4, the characteristics of which are shown in the table below.
ASUS TUF GAMING B660M-PLUS WIFI D4
Supported processors
Intel Core, Pentium Gold, Celeron 12th generation with LGA1700 socket
Chipset
B660
Memory Subsystem
4 × DIMM, up to 128 GB DDR4-5333
Expansion slots
1 × PCI Express x16 5.0
1 × PCI Express x4 3.0
1 × PCI Express x1 4.0
Drive interfaces
1 × M.2 (Socket 3, 2242/2260/2280) supporting PCI Express x4 4.0
1 × M.2 (Socket 3, 2242/2260/2280) supporting PCI Express x4 4.0
4 × SATA 6Gb/s
The local network
1 × Realtek RTL8125BG, 10/100/1000/2500 Mbps
Audio subsystem
Realtek ALC897 7.1 HD
Internal interfaces
1 × SPI TPM
1 × RGB LED
3 × ARGB LED
1 × F-Audio
1 × Thunderbolt AIC
1 × USB 2.0
2 × USB 3.2 Gen1
1 × USB 3.2 Gen2
Interfaces on the rear panel
1 × HDMI
1 × DisplayPort
2 × USB 2.0 Type A
1 × USB 3.2 Gen1 Type A
4 × USB 3.2 Gen2 Type A
1 × USB 3.2 Gen2 Type C
1 × RJ-45
1 × S/PDIF Out
5 × 3,5 мм
Form factor
mATX, 244 × 244 mm
Price
16 000 rub.
Prices for different versions of TUF Gaming based on the B660 chipset in Moscow jump quite a lot. So, the simplest version, TUF GAMING B660M-PLUS D4 without a Wi-Fi module, can be found on sale for 13,500 rubles, but on average they ask for 16,000 rubles for a fee. And it is definitely worth mentioning that now new items for the LGA1700 platform are overpriced. Let's see how the situation will change in the next couple of months, but for now let's move on to the actual review.
The device is packed in a small cardboard box. Since the board is equipped with a wireless module, antennas are included with it. Of the things that may come in handy, I note two black SATA cables and mounting screws for shorter SSD drives. The rest is all useless waste paper and a CD reminding me of how long ago I didn't play frisbee with my dog.
⇡#Features of the motherboard
We are dealing with an mATX form factor motherboard. Textolite, however, was not spared, otherwise there are a lot of "Frankenstein monsters" on sale, resembling rather mini-ITX devices with a limited set of interfaces and ports. The manufacturer claims that the TUF GAMING B660M-PLUS WIFI D4 PCB consists of six layers.
If you want to use a large supercooler like the Noctua NH-D15 in your build, be prepared for it to cover all the DIMM slots as well as the M.2 socket closest to the CPU socket.


In quantitative terms, DIMM slots did not suffer: there was enough space on the PCB to unsolder four connectors at once to install DDR4 RAM. ASUS calls RAM slots SafeDIMM – they are reinforced with additional solder points, which gives the user +500 confidence during PC assembly.
Enhanced with TUF GAMING B660M-PLUS WIFI D4 and single PEG port. Let me remind you that in motherboards for the LGA1700, 16 lines of the PCI Express 5.0 standard are connected to it. The metal "clothing" looks stylish, but you should start talking about its real use in a gaming PC, armed with a video card weighing two kilograms, and even better – three.
The rest of the expansion slots stand on the sidelines and envy. There are two of them, but only PCI Express x4 3.0, made in a PCI Express x16 case, is really useful. And all because the only PCI Express x1 (by the way, version 4.0) will be blocked if a powerful gaming video card is installed. You know, now even on the GeForce RTX 3060 they "hang" three-section coolers.
However, in such conditions, even the PCI Express x4 port will be of little use. So I wanted to install a discrete sound card in the computer – some kind of ASUS STRIX Raid PRO, so that DMX would sound cool, not only because of an attack of acute nostalgia. Only now its printed circuit board will seriously complicate the air intake by the video card cooler. And yes, I'm saying all this just so that everyone who uses more than just a video card from discrete devices, take a closer look at the full-fledged ATX form factor. For example, to the ASUS PRIME B660-PLUS D4.

And when using a video card with a three-section CO, the second M.2 connector will be blocked. The TUF GAMING B660M-PLUS WIFI D4 has four PCI Express 4.0 lanes connected to it and only supports NVMe drives. The first and main SSD in the system should be installed in the top slot – in this case, the storage device will be additionally blown by the processor cooler fan. Aluminum "shell", by the way, can always be moved from one M.2 port to another.
I will draw your attention to two things. Firstly, TUF GAMING B660M-PLUS WIFI D4 does not support 22110 format drives – devices with a length of 80, 60 and 42 mm can be fixed in the corresponding slots. Secondly, the seats for the 2280 form factor SSD received plastic latches that securely fix the storage device. A trifle, but nice!
Expansion slots and M.2 ports have no conflicts with SATA 6 Gb / s connectors, of which four pieces are soldered on the board at once. Some of them in the gaming assembly will be covered by the video card cooler, but, fortunately, they are rotated 90 degrees relative to the PCB plane.
In general, the layout of the TUF GAMING B660M-PLUS WIFI D4 components can be rated as a strong four.

TUF GAMING B660M-PLUS WIFI D4 received six connectors for connecting fans at once – generous for a board based on a non-flagship chipset. I have no serious complaints about the location of the connectors, except that I would like to see one of the ports closer to the top M.2 slot. So it would be easier to connect a fan located on the rear wall of the case to this connector (of course, if we are talking about the Midi-Tower form factor). In the case of TUF GAMING B660M-PLUS WIFI D4, when using a large case, the length of the Carlson wire may not be enough, because it will have to be pulled down along the entire back wall.
Let me remind you that modern boards have long been able to regulate the speed of the impellers both with and without PWM – this applies even to budget devices. So, it's very possible to fine-tune the assembly's cooling system using TUF GAMING B660M-PLUS WIFI D4 without spending money on expensive fans.
The "dropsy" into two sections will fit well into the assembly with the board. So, we will connect fans to a pair of CPU_FAN / CPU_OPT connectors, and an LSS pump to AIO_PUMP. Well, quietly laying a cable sticking out of the water block is already a matter of technology, guys.


Next to the AIO_PUMP connector, there is a pair of 3-pin connectors for connecting RGB backlight. Two more connectors are located at the bottom of the PCB. As a result, three devices with addressable LED backlighting and one with a standard, 12-volt tape can be connected to the board.
Among the pleasant things, I note the presence on the board of the Q-LED system boot indication – a very useful thing, if suddenly the motherboard turned out to be incompatible with one or another set of RAM, for example. Or if some piece of hardware is junk, not allowing you to proceed to boot the OS.
I almost forgot: the inscription "TUF" on the right side of the printed circuit board is highlighted with all the colors of the rainbow. The backlight can be turned off, or can be configured in the AURA Sync application.

As you can see, a plug for the TUF GAMING B660M-PLUS WIFI D4 I/O panel is not required. True, the instinct developed over a couple of decades makes the first thing to look for it in the box. A complete list of internal and external connectors is given in the table at the beginning of the article, but personally I want to highlight:
the presence of four USB 3.2 Gen2 A-type and one USB 3.2 Gen2 C-type on the I / O panel at once;
the presence of a DisplayPort output;
internal USB 3.2 Gen1 C-type.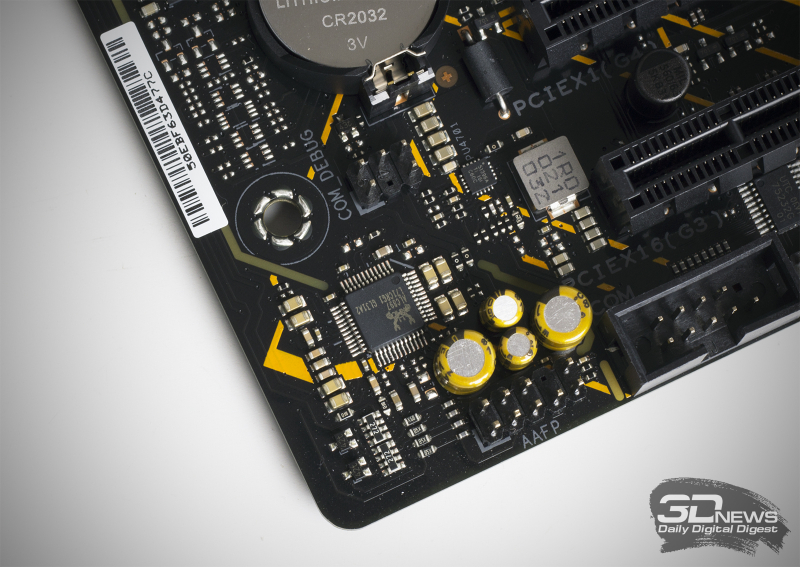 The Realtek ALC897 controller is responsible for the sound in TUF GAMING B660M-PLUS WIFI D4 – a chip that, unfortunately, can be found even in Z690 boards for 20+ thousand rubles. Against this background, let's not even stutter about the fact that the motherboard has isolation of the analog and digital zones, separate wiring for audio channels and some special premium capacitors.
The Realtek RTL8125BG controller with a bandwidth of 2.5 Gbps is responsible for the wired connection. Wireless communication with the World Wide Web is handled by the Intel Wi-Fi 6 AX201 processor (bandwidth up to 2.4 Gb / s, support for Bluetooth 5.2).
The board is equipped with two EPS connectors (8 and 4 pins) that power the CPU. These connectors are claimed to have extreme durability and are also not susceptible to overheating. According to ASUS, they are 42% better load-bearing than previous generation connectors.
The TUF GAMING B660M-PLUS WIFI D4 power converter, according to the manufacturer, works according to the 10 + 1 scheme. However, the power elements are controlled using the Digi+ ASP2100 8-channel PWM controller. So the real scheme of VRM operation for this board looks like 5+1+2 – just the VCore voltage operation is provided by ten Vishay SiC654 assemblies connected in parallel. Each such field effect transistor withstands a load of 50 A. One SiC643 assembly (60 A) is allocated to the VCCGT voltage regulation channel. Two more phases provide VCCAUX operation, but they are recruited with four 4C10C (46 A) and 4C06C (69 A) mosfets from ON Semiconductor.
The power elements of the board are cooled by a pair of separate medium-sized aluminum radiators. The clamp is of high quality, because the metal bars are attached to the printed circuit board with screws. Between the transistors and the aluminum sole are quite thick thermal pads.
Stand and testing methodology
To test the ASUS TUF GAMING B660M-PLUS WIFI D4, we decided to build a fairly powerful gaming PC. A list of all components used in the assembly is given in the table below.
Test bench configuration
CPU
Intel Core i7-12700K
Motherboard (BIOS version)
ASUS TUF GAMING B660M-PLUS WIFI D4 (BIOS 1009)
RAM
Corsair Vengeance RGB PRO CMW32GX4M4K4400C18, DDR4-4400, 4×8GB
Corsair Vengeance CMK16GX4M2Z3466C16, DDR4-3466, 2×8GB
Main drive
Intel 760p 2 TB
video card
Palit GeForce RTX 3080 GAMING PRO 10 GB GDDR6X
Power Supply
Corsair AX1500i, 1.5 kW
CPU cooler
Arctic Liquid Freezer II 420
Frame
Open test bench
Monitor
Acer S277HK 27″ Ultra HD
Operating system
Windows 11
Video card software
NVIDIA
GeForce Game Ready Driver 511.79
Optional equipment
Thermal imager
Fluke Ti400
Sound level meter
Mastech MS6708
Wattmeter
watts up? PRO
The processor and power subsystem of motherboards were loaded with the Prime95 30.8 program (Small FFTs subtest). Practice shows that among professional software there are working applications that can load Core chips to consume more than 200 watts. Therefore, the stable operation of the computer in such programs is a guarantee that the system will subsequently not overheat, throttling and work unstably.
The stands used the maintenance-free CBO Arctic Liquid Freezer II 420 – this "dropsy" is equipped with an additional fan mounted on the water block. He blows the elements of the power circuit of the motherboard. For more consistent results, the fan of the Arctic Liquid Freezer II 420 was turned off. It turns out that the motherboard power converters were not additionally cooled during testing.
It is worth remembering that in real life any of the tested motherboards will be installed in a computer case, and depending on the environmental conditions, the results presented can either improve or worsen. The use of LSS in the test bench is an attempt to determine the criteria for stable operation of the board in any situation.
To get a better picture, the test bench was tested in the following games in Full HD resolution:
The Witcher III: Wild Hunt. DirectX 11. Novigrad and surroundings. Maximum quality.
GTA V. DirectX 11. Built-in benchmark. Maximum quality, FXAA + 2x MSAA, advanced quality settings – on, 16x AF, image resolution scaling – off. In 4K – without AA.
PlayerUnknown's Battlegrounds. DirectX 11. Training mode. Ultra mode.
Marvel's Guardians of the Galaxy. DirectX 12. Built-in benchmark. Quality mode "Ultra", DXR – off.
HITMAN 3. DirectX 12. Chongqing. Ultra mode, 16x AF, Super Sampling 1.00, Simulation Quality – Best.
Cyberpunk 2077 DirectX 12 City Ride Impressive quality mode, DXR off, DLSS off.
Total War Saga: TROY. DirectX 11. Built-in benchmark. "Max" mode.
Horizon Zero Dawn. DirectX 12. Built-in benchmark. "Highest Quality", TAA.
Watch Dogs: Legion. DirectX 12. Built-in benchmark. Ultra mode, DXR off, DLSS off
Far Cry 6. DirectX 12. Built-in benchmark. Quality mode "Ultra", TAA, HD textures, DXR – off.
Gaming performance was measured using the well-known CapFrameX program. It allows you to get the rendering time of each frame. The use of the 99th percentile instead of the minimum frames per second is due to the desire to clean up the results from random performance fluctuations that were provoked by reasons not directly related to the operation of the main components of the platform.
⇡#BIOS
At the time of this writing, firmware 1009 was considered the current version – it appeared in the public domain at the end of January. And this is the third version of the microcode for the board, which has just gone on sale. In the description of the new BIOS, there are a number of fixes related to the stability of TUF GAMING B660M-PLUS WIFI D4 and support for DDR4 RAM.
Boards based on the B660 chipset do not support CPU overclocking, even if the build uses unlocked chips such as the Core i7-12700K. But there is memory overclocking. For TUF GAMING B660M-PLUS WIFI D4, by the way, support for DDR4-5333 mode is declared. Also, the BIOS of the board is equipped with a fairly large set of options and an impressive list of voltages that you can change yourself.
ASUS TUF GAMING B660M-PLUS WIFI D4 (BIOS 1009)
Voltage, min./max. values ​​and step, V
CPU Core/Cache Voltage
0.6/1.7
0.005
CPU Core/Cache Voltage Offset
-0.635/0.635
0.005
CPU L2 Voltage
0.7/1.8
0.001
CPU System Agent Voltage
0.7/1.6
0.001
CPU Input Voltage
1.5/2.1
0.01
DRAM Voltage
1.0/1.8
0.005
IVR Transmitter VDDQ Voltage
0.7/2.2
0.005
Core PLL Voltage
0.9/1.845
0.015
GT PLL Voltage
0.9/1.845
0.015
Ring PLL Voltage
0.9/1.845
0.015
System Agent PLL Voltage
0.9/1.845
0.015
Memory Controller PLL Voltage
0.9/1.845
0.015
CPU 1.8V Small Rail
1.8/1.9
0.1
PLL Termination Voltage
0.8/1.8
0.01
PCH 1.05V Primary Voltage
1.05/1.15
0.1
PCH Core Voltage
0.82/0.92
0.1
Load-Line Calibration
CPU (levels)
7
Additionally
Setting Primary Timings
Provided
Setting secondary and tertiary timings
Provided
BIOS setting profiles
Yes, 8 slots
Cleaning the SSD
Provided
Fan rotation setting
Provided (Q-Fan Tuning, Qfan Control)
BCLK change
Not provided
Automatic CPU overclocking
Not provided
Automatic memory overclocking
Provided (XMP I)
Updating the BIOS without turning on the board
Not provided
Temperature sensors
M/B temperature
Earlier this year, a review of the ASUS PRIME Z690-P D4 model was published on our website , and since everything, as you know, is known in comparison, we will compare it with it. We see that TUF GAMING B660M-PLUS WIFI D4 is deprived of the ability to regulate some voltages. Plus, parameters such as PCH 1.05V Primary Voltage and PCH Core Voltage are "screwed" in version 1009 rather for show (we can change these voltages in a very narrow range).
And yet the Plus firmware has everything you need to configure the CPU and RAM. The voltage of the CPU cores changes in two modes: in explicit and in Offset mode. In the second case, we can mirror the potential difference by 0.635 V in 0.005 V steps. The VDDQ and system agent setting will definitely come in handy. What's nice, the BIOS has seven levels of Load-Line Calibration for the CPU component.
The board has one temperature sensor, that is, in the BIOS and using proprietary ASUS software, we can control the temperatures of the processor and motherboard. We don't have the ability to connect a thermocouple to the T_sensor connector – this is the prerogative of the ROG series boards. And also, in my opinion, it's time to add temperature sensors to all boards without exception in the VRM zone.
The Advanced page is responsible for configuring the board's hardware resources. The Monitoring page displays the readings of temperature sensors, voltages, as well as all fans connected to the motherboard. The Boot tab allows you to configure boot devices and set other parameters related to system startup. Finally, the Tool menu gives you access to the saved custom UEFI BIOS settings profiles, the Secure Erase function, which erases all information from the SSD, as well as tabs with detailed information about the RAM modules installed in the board and the operating modes of the available video cards.
Traditionally, the UEFI BIOS of ASUS motherboards is equipped with useful features such as EZ Flash 3 Utility and Qfan Control. With the help of the first mini-application, we can update the BIOS firmware in just a couple of minutes, with the help of the second, we can configure the operation of the fans connected to the motherboard.
⇡#Testing
TUF GAMING B660M-PLUS WIFI D4 was tested using a 12-core Core i7-12700K. I also have a Core i9-12900K at my disposal, but I'm sure that potential owners of this 16-core processor will look towards boards based on the Z690 chipset. For such users, I recommend reading the article " Time of the First: A Review of the 6 Most Affordable Motherboards Based on the Z690 Chipset ". I am sure that together with B660 boards, in most cases, Core i5 and Core i3 series chips will be used. So the Core i7-12700K is more than enough to stress test the TUF GAMING B660M-PLUS WIFI D4.
The hero of the review copes with this processor with dignity – TUF GAMING B660M-PLUS WIFI D4 ensures stable operation of 12-core Alder Lake even in Prime95 without any system tuning. Therefore, the board can easily cope with less productive chips.
We see that the near-socket space of the device noticeably heats up under load – the thermal imager captures values ​​​​close to 80 degrees Celsius. The temperatures are not critical, but, I believe, in conjunction with the Core i9-12900K, the board will already work on the edge. Naturally, we are talking about such a load as Prime95. If the PC is used exclusively for gaming, then any commercially available Alder Lake can be installed in TUF GAMING B660M-PLUS WIFI D4 without any worries.
Please note that the default value of PL1 for the CPU is 240W. It can be removed in the BIOS settings, but in our case there is no point in doing this – the test Core i7-12700K in Prime consumes a little more than 220 watts. However, it is worth recalling that two identical processors do not exist in nature. On sale you can find chips with less successful crystals, the power consumption of which can be several tens of watts more. Details about this are written in the article " Which cooling system is suitable for Alder Lake processors ".
I will also draw your attention to the temperature of the Core i7-12700K under load. Alas, the Liquid Freezer II 420 is not well suited for working with Alder Lake chips – the copper sole of the Arctic "dropsy" does not completely cover the chip cover, and there was no other suitable cooling system at hand during the test. At the same time, the Freezer was installed on the board using a special set of mounts compatible with boards for the LGA1700 platform.
Fortunately, a small decrease in voltage allowed us to noticeably reduce the power consumption of the processor – up to 200 W on average. To do this, it was necessary to reduce the VCore parameter by 0.035 V in the Offset mode. In general, regarding the operation of TUF GAMING B660M-PLUS WIFI D4 in the default mode, we see that the board slightly overvoltages the Alder Lake processor cores. The VDDQ and SA parameters are normal – otherwise some boards turn out quite high values ​​\u200b\u200band for them.
The Corsair Vengeance RGB PRO CMW32GX4M4K4400C18 memory kit is a real stumbling block for many platforms and motherboards. This set has excellent overclocking and tuning potential, but in some cases you have to think hard about how to run it at least in DDR4-4000 mode. So, in comparative testing of Z690 boards, not a single motherboard launched this kit in DDR4-4400 mode when using all four modules. TUF GAMING B660M-PLUS WIFI D4, unfortunately, is no exception to the rule. But still:
two modules started up in DDR4-4400 mode without any dancing with a tambourine;
four modules worked only in DDR4-4000 mode;
Gear1 mode worked up to an effective frequency of 4100 MHz.
Let me remind you that ASUS PRIME Z690-P D4 showed itself not so convincingly a month ago . So TUF GAMING B660M-PLUS WIFI D4 can only be praised, as well as ASUS employees, who are modifying and polishing the BIOS.
Below are the results of testing the stand in games in Full HD resolution. The first case used a Corsair Vengeance CMK16GX4M2Z3466C16 memory kit with XMP enabled. In the second case – Corsair Vengeance RGB PRO CMW32GX4M4K4400C18 in DDR4-4000 mode with primary, secondary and tertiary timings configured. In fact, when using the Core i7-12700K in the assembly, only different memory affects the difference in performance. Only here FPS does not change much from stand to stand: most of the advantage of Alder Lake chips comes from a completely new microarchitecture. Therefore, it is necessary to invest in the processor, and not in memory.
Testing ASUS TUF GAMING B660M-PLUS WIFI D4
 
Core i7-12700K + DDR4-3466 (16-18-18-36) + RTX 3080
Core i7-12700K + DDR4-4000 (14-14-14-34) + RTX 3080
 
AVG
1% MIN
AVG
1% MIN
The Witcher III: Wild Hunt
201
136
206
136
gta v
141
99
148
106
PlayerUnknown's Battlegrounds
329
220
333
225
Marvel's Guardians of the Galaxy
168
130
180
139
HITMAN 3
184
146
191
156
Cyberpunk 2077
one hundred
73
103
75
Total War Saga: TROY
161
107
163
107
Horizon Zero Dawn
157
107
162
112
Watch Dogs: Legion
109
89
110
91
Far Cry 6
140
94
143
98
FPS Growth
+3%
+4%
⇡#conclusions
" CPU overclocking is not needed! » – if this statement is true for you, then there is not much point in buying a Z690 board. Using the TUF GAMING B660M-PLUS WIFI D4 as an example, we see that devices with a lower rank have everything they need to assemble a modern and powerful gaming system with a single video card.
Honestly, I don't even know what to complain about, summing up today's testing. Unless you expect to see better built-in sound in the TUF GAMING B660M-PLUS WIFI D4 – especially since the mATX form factor imposes more restrictions when using several discrete devices. Otherwise, we have a high-quality basis for a gaming PC of almost any complexity – without the possibility of overclocking the CPU and allowing you to install only one video card in the system.
Buy TUF GAMING B660M-PLUS WIFI D4 or not – it's up to you, dear readers. The prices for the board are announced in the article, and in the near future we will definitely continue our acquaintance with other interesting representatives of the B660 segment.