Samsung Galaxy Z Flip 3, as it turned out, became the most popular smartphone in the manufacturer's home market in the last quarter.
Galaxy Z Flip 3, despite the far from the lowest price and not yet the most familiar form factor, managed to bypass all competitors, and the diagram shows that it is noticeably bypassed.
The second place went to the Galaxy S21, and the third place was taken by the inexpensive Galaxy A32. In addition, the Fold 3 entered the top ten, and in fourth place, and the tenth place of the very specific Galaxy Quantum 2 with a quantum random number generator seems to be something incredible at all.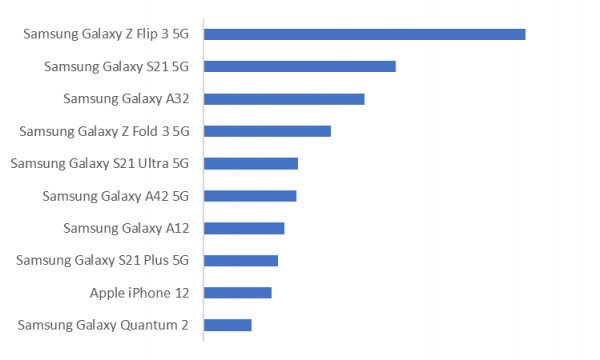 At the same time, Samsung smartphones occupy nine lines out of ten, and in general the company occupied 85% of the home market. The only outsider in the top ten is the world's best-selling iPhone 12, but only in ninth place.
.