The US smartphone market is dominated by Apple, and OnePlus has already surpassed Google. Such conclusions can be found in Counterpoint's report on the results of the fourth quarter of last year.
Analysts do not provide quantitative indicators, but say that sales of smartphones in the US have not changed from a year ago.
Apple's sales grew by 17%, thanks to which the company took over half of the market (57%)! As we have noted more than once, this was facilitated by the high popularity of the fresh iPhone 13 line.
Samsung sales also grew, but by 11%. At the same time, the company occupied only 24% of the market. The authors say that the sales of the Korean giant were held back by the lack of devices of the Galaxy S21 line and the delayed launch of the Galaxy S21 FE. The company's best-selling smartphone in the US for the entire year was the budget Galaxy A12.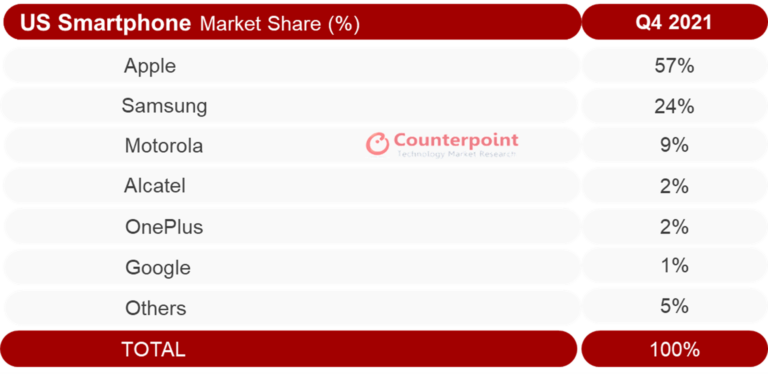 Third place after the departure of LG took Motorola. The company was able to capture 9% of the market by selling the largest number of smartphones in the US in its history! In addition, Moto G Pure entered the top three most popular smartphones in the US last quarter.
OnePlus' sales grew by an incredible 524%, giving the company a 2% share of the market alongside Alcatel and surpassing Google. At the same time, the latter also significantly increased sales (by 56%), which proves the success of the fresh Pixel 6 line. The rest of the devices outside the top six account for only 5% in total.