At an official event to mark CES 2022, AMD unveiled the Ryzen 6000 mobile processors as well as new graphics cards. Special attention was paid to the top-end gaming processor Ryzen 7 5800X3D – completing the story about it, a company representative briefly touched on the topic of Ryzen 7000 processors for desktop PCs. In fact, their release in the second half of this year was confirmed. But, as it turned out, the company nevertheless demonstrated at the press conference a prototype Ryzen 7000. It was used as part of the gaming system to launch the Halo Infinite game.
The demonstration was recorded on video and did not take place live. The frame rate can only be guessed at, but according to AMD head Lisa Su, it is "high". Considering that the stand used a GeForce RTX 3080 video card, and the resolution was only Full HD, there is no doubt about the high frame rate.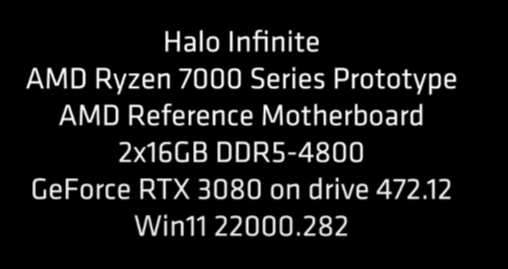 Another thing is more important for us. AMD confirmed that during the test, all cores of the Ryzen 7000 prototype (on the Zen4 architecture) were clocked at 5.0 GHz. That is, the performance with one active core will clearly be higher – approximately at the level of the flagship Core i9-12900KS (up to 5.5 GHz).
It is also confirmed that the Ryzen 7000 will fit into the LGA1718 (AM5) processor socket, which is almost the same number of pins as the LGA1700 socket for Intel Alder Lake processors. Ryzen 7000 will support DDR5 memory and get a PCIe 5 bus controller, and compatibility with processor coolers for current AM4 CPUs is promised.
.