AMD introduced 4 new mobile 3D accelerators a day ago, among the new products was the Radeon RX 7700S. Now its first test has appeared – a 3D map has been tested in Geekbench.
Compared to its predecessor, the Radeon RX 6700S, there is definitely progress: the Radeon RX 7700S, which scored 81,145 points in the OpenCL test, outperformed its predecessor by almost a third (63,220 points). But the new AMD product cannot stand comparison with Nvidia 3D accelerators: it is slower than both the GeForce RTX 4060 and the GeForce RTX 3060, and much slower (the result of the GeForce RTX 3060 is 112,891 points).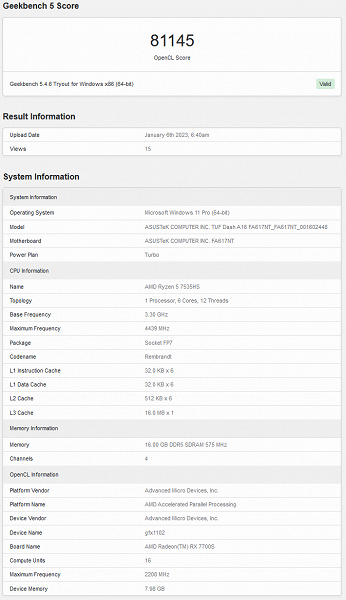 It is important to note that the tested Radeon RX 7700S, according to Geekbench, had 16 execution units – two times less than those of the step-up Radeon RX 7600M XT and Radeon RX 7600M. However, the Radeon RX 7700S is intended for thin and light laptops, for which its performance may be quite sufficient.