AMD has already stated that the Radeon RX 7900 XTX is a competitor to the GeForce RTX 4080, while the Nvidia card is still 20% more expensive. Now we have posters from the AMD announcement, where just the new Radeons are compared with the RTX 4080.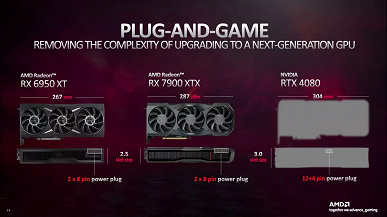 We see that AMD cards have more memory, and even the $900 RX 7900 XT has a wider memory bus, while the TDP of the Nvidia card lies somewhere between the RX 7900 XT and XTX. Plus, at least AMD reference adapters are more compact. In addition, they have support for HDMI 2.1a and USB-C.
But we are, of course, more interested in performance comparisons. Unfortunately, there aren't any yet, simply because the RTX 4080 isn't out yet. Instead, AMD again compares the new products with the RX 6950 XT, demonstrating how much faster they are. And earlier we had a comparison only with the RX 7900 XTX, and now there is also with the RX 7900 XT.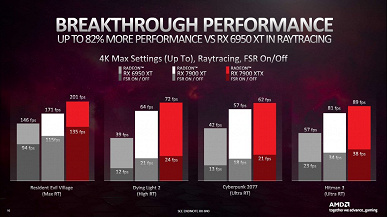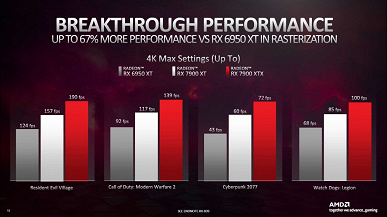 Among other things, we can see that AMD's new products do not differ very much from each other, but the price difference between them is only $100. Recall that the cards will go on sale on December 13.