At CES 2023, AMD announced new processors for laptops. As stated, the new chips of the series Ryzen 7040 30% faster than the M1 Pro, which allows the laptop to work up to 30 hours on a single charge. More precisely, such an increase in performance is typical for the older model AMD Ryzen 9 7940HS.
The novelty is equipped with 8 cores and 16 instruction threads, operates at a frequency of up to 5.2 GHz. At the same time, the promised performance increase applies to multi-threaded mode.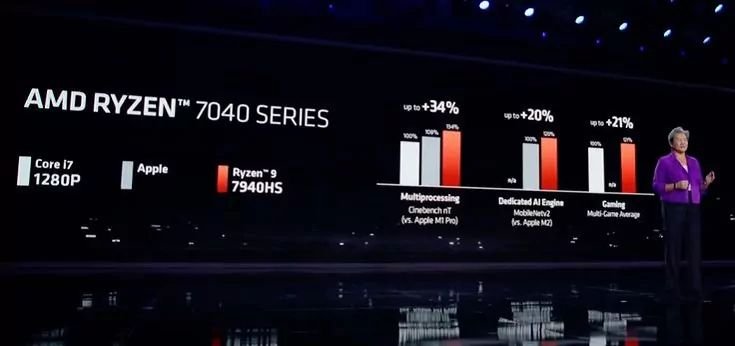 AMD has said that the new Ryzen 7040 series processors will provide up to 30 hours of video playback. It is also promised that the built-in AI task accelerators allow you to complete such tasks faster. Finally, during the presentation, they showed a comparative test – on a laptop with a Ryzen 9 7940HS and on a device with an Apple M1 Pro. It turned out that the "red" chip was able to render the object created in the Blender 3D editor faster.
At the same time, AMD did not compare its most powerful mobile CPU with the M1 Max chip. The competitor was a MacBook Pro with M1 Pro, 32 GB of RAM and 1 TB SSD. That is, the comparison was with a chip that is more than a year old.
As for the release of ready-made solutions for the Ryzen 7040, they are expected from March 2023.