Nvidia has finally revealed its Grace processor, which was originally revealed back in April 2021.
So, Grace CPU is a 72-core processor based on the Arm v9.0 architecture. It contains 117 MB of L3 cache and 68 PCIe 5.0 lanes, and will be manufactured at TSMC's facilities using a 4 nm process technology.
The processor is designed for the data center, and it is also worth recalling that Nvidia will also Grace CPU Superchip – in fact, two combined Grace processors.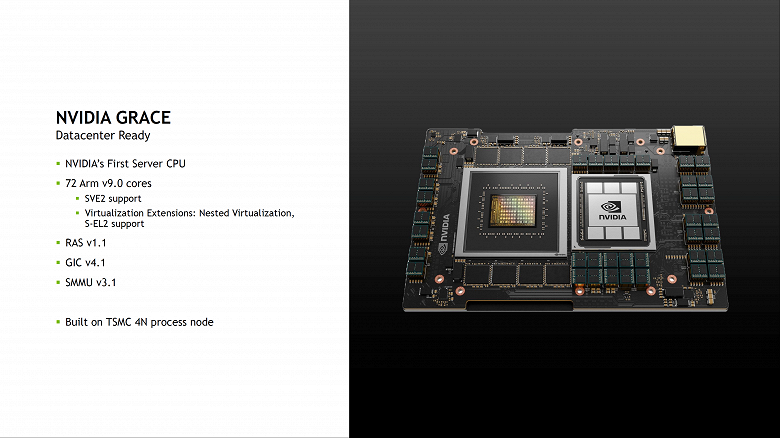 Grace is also the first in the world to support ECC LPDDR5x memory with a total bandwidth of 1TB/s. You can also highlight the C2C NVLINK interface with a throughput of 900 GB / s and twice the performance per watt compared to today's leading CPUs.
In terms of performance, Grace scores 370 points in Specrate_int_base and Grace CPU Superchip scores 740 points. For comparison, a pair of Epyc 7763 (128 cores in total) scores 861 points. At the same time, the Grace CPU Superchip consumes about 500 watts, and the two Epyc processors mentioned require about 560 watts.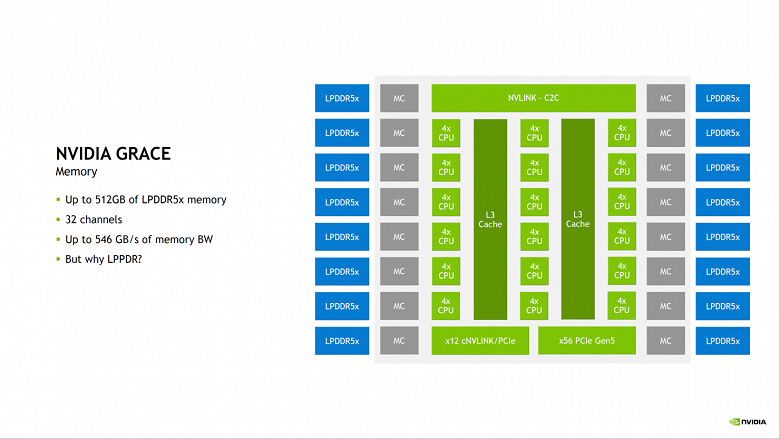 It is also worth noting that Grace is a highly specialized CPU for the tasks of training NLP models. That is, directly comparing it with Epyc or Xeon is not very correct.