Conceptual images of the promising flagship Xiaomi Mix 5 appeared on the Web, and in two versions at once. One demonstrates a round camera block similar to the Huawei Mate 40, in the second case, all four modules are arranged in one vertical row. Of course, these pictures have nothing to do with the official images, but it cannot be ruled out that the Mix 5 will actually look something like this.
At the same time, a list of possible characteristics of the Mix 5 has been published on the web, and it looks impressive. There is no doubt that the device will receive a top-end SoC Qualcomm. We are talking about Snapdragon 8 Gen 1, but by the time the Mix 5 is released, Qualcomm, according to rumors, will already have Snapdragon 8 Gen 2 ready, so this option should not be ruled out. The SoC will be supplemented with 20 temperature sensors for better heating control.
The Mix 4 has a sub-screen front camera, and the Mix 5 should also receive the same, but already of a new generation (although one variant demonstrates a dual embedded front camera). The diagonal of the smartphone screen will be 6.89 inches, the resolution is 2K, and the frame rate is 120 Hz.
There are two options for the main camera. The first assumes the following configuration: 100 MP (with mechanical telephoto lens), 40 MP (ultra wide-angle lens), 13 MP (telephoto lens), 48 MP (wide-angle lens), ToF sensor. Second: 108 MP (main sensor), 50 MP (wide-angle lens), 50 MP (ultra-wide-angle lens), 50 MP (portrait lens), 8 MP (telephoto lens). As you can see, there are many modules, there are many options, but the second seems more likely, since in some ways it converges with the Xiaomi 12 Pro camera.
Xiaomi Mix 5 is assigned 200x digital and 15x optical zoom and a special algorithm for the "Image Focus Mode": the system stops secondary tasks, and all the resources of the single-chip system are directed to the operation of the camera.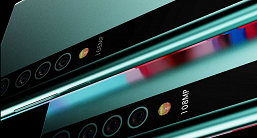 The Mix 5 will receive a 5000 mAh battery (the 6000 mAh variant is mentioned, but it seems too unlikely) with support for fast wired charging with a power of 200 W and wireless power of 50 W.