What the latest single-chip system MediaTek Dimensity 9000 turned out to be very fast, it became clear even before its announcement: the Vivo smartphone based on it scored more than 1,000,000 points in AnTuTu. And the marketing materials that have appeared on the Web demonstrate the Dimensity 9000 level relative to other mobile platforms.
So, for example, according to official data, in the multi-threaded test Geekbench 5.0, Dimensity 9000 is at the level of Apple A15, on which the iPhone 13 is built: both SoCs gain more than 4000 points. In comparison, the Android flagship should be understood as Snapdragon 888, and, as you can see, this SoC lags behind. Dimensity 9000 is also faster than Snapdragon 888 in Geekebench 5.0 single-threaded test by 10.5%, in Specint2K6 test – by 35%.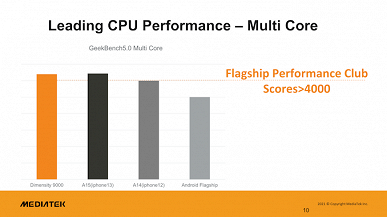 Finally, Dimensity 9000 is faster than the Google Tensor platform in accelerating AI tasks by about 16%, and after all, when creating Tensor, the developers focused on this.
It is clear that marketing materials do not always reflect the real state of affairs, but at the moment there are no other options to compare Dimensity 9000 with competitors – ready-made devices on this platform will appear only in the first quarter of 2022.
.