The source released details about the Ideal X01 full-size SUV, which should compete with the Range Rover Extended Edition 400PS, Mercedes-Benz GLS 450 and BMW X7 XDrive40i. It is with these cars that the manufacturer compares it on the leaked slide.
The car will receive a large body with a length of 5.2 m with a wheelbase of more than 3.1 m. The Ideal X01 SUV will receive a hybrid transmission consisting of a four-cylinder gasoline engine with a capacity of 1.5 tons with a thermal efficiency of up to 40% and an electrical installation. The maximum power of the entire system will exceed 407 hp, and the peak torque will be more than 650 Nm. Acceleration time from 0 to 100 km/h will be less than 6 s.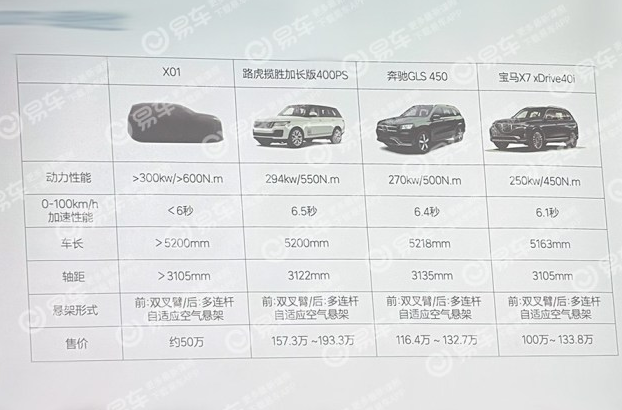 The new car will be equipped with a 44.5 kWh battery pack with a range of 200 kilometers on electric power alone. At the same time, fast charging is supported (from 20 to 80% in just 36 minutes). The fuel tank capacity of the new car is 65 liters, and the total power reserve for the WLTC cycle can reach 820 kilometers.
In addition, the Ideal X01 will get front double wishbones and rear multi-link, as well as adaptive air suspension, and the price will be about 78 thousand dollars.
The vehicle is expected to enter the market in the near future.