The first tests of Intel Xeon processors of the Sapphire Rapids-SP generation appeared on the Web. These are still engineering samples, but it is still interesting to look at the results.
We tested systems with four Xeon Platinum 8480+ and four Xeon Platinum 8450H. The first contains 56 cores, while the second has only 28 cores.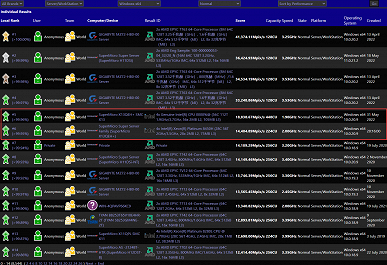 The tests were done in Sisoft Sandra, so they may not match real-world results, but it's still better than nothing. Also for comparison, the source took the results of a system with four 28-core Xeon Platinum 8280L of the current generation and two 64-core AMD Epyc 7742.
In the arithmetic test, for which single-threaded performance is important, the results of the new Intel CPUs are not yet impressive. Yes, Xeon Platinum 8480+ is slightly faster than Epyc 7742, but, firstly, only a little, secondly, the result of Xeon Platinum 8280L is almost the same, and thirdly, new Intel CPUs will already compete with the next generation of Epyc Genoa processors on Zen 4 architecture, which will also offer up to 96 cores.
As far as multimedia tests are concerned, both Intel's new products are significantly behind the current Epyc processors, despite the huge difference in the number of cores in the case of the Xeon Platinum 8480+. That is, in tasks where all cores are involved, Intel's new products look weak against the background of current AMD CPUs.