The German resource, backed by well-known insider Roland Quandt, has published high-quality images and detailed specifications of the DJI Mavic 3 Classic drone. It will become a more affordable version of the regular Mavic 3. The simplification by which the cost is reduced is only one, but it is noticeable: instead of two cameras, the Mavic 3 will have only one camera in the Classic version.
The Mavic 3 Classic will feature a single module with a 20MP 4/3″ optical format sensor and a 24mm wide-angle lens. The module with the 1/2-inch sensor and the telephoto lens has been eliminated. The Classic model's camera is still branded Hasselblad and supports 5.1K video recording at 50 fps. The drone will also be able to record 4K video at 120 fps and Full HD video at 200 fps.
Eliminating one module will make the drone 5 grams lighter – its weight will be 895 grams. Otherwise, everything is the same as the regular Mavic 3: the drone will be able to fly away from the user at a distance of up to 8 km and climb to a height of up to 6 km, the maximum flight autonomy when using a standard 4S battery with a capacity of 4S 77 Wh will be 46 minutes.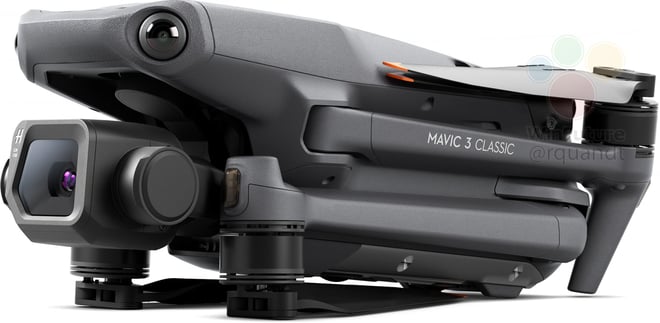 The official premiere of the Mavic 3 Classic will take place on November 2. This version is expected to cost $1,400, meaning the drone will be $500 cheaper than the regular Mavic 3.
Previously, Roland Quandt completely declassified the GoPro 9 Black and GoPro 10 Black cameras before the announcement and revealed their exact cost, as well as published accurate renders of the Nokia G21, Xiaomi Mi A3, Xiaomi Mi 9T, Samsung Galaxy Z Fold 4 and many other smartphones.