The RISC-V architecture hasn't been in the news as often as Arm recently, especially when it comes to high-performance solutions. But today, Ventana Microsystems unveiled the Veyron V1 based on such an architecture, and it is supposedly aimed at fighting the server monsters of AMD and Intel.
The Veyron V1 stands out in two ways. Firstly, it is produced using the most modern 5 nm process technology, and secondly, it has up to 192 cores.
The CPU operates at a frequency of up to 3.6 GHz, has a cluster structure (16 cores per cluster) and 48 MB of L3 cache. Also noteworthy is support for IOMMU and AIA, full RAS functions, and support for "out of order execution".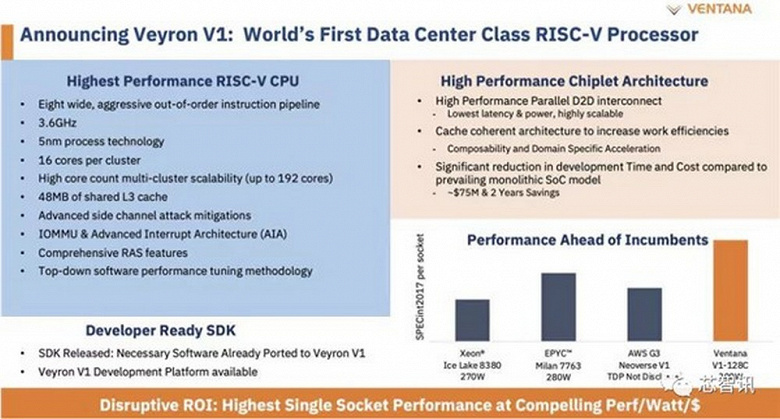 The company itself focuses its offspring immediately on many market segments, from data storage to streaming systems.
According to the manufacturer, in the SPECint 2017 test, the 128-core version of Veyron V1 significantly outperformed the 64-core AMD Epyc 7763 (280 W) at 300 W power consumption and reached the level of AWS Graviton G3 ( Neoverse v1).
The company wants to release its CPU to the market in mid-2023.